Nathan Gibson, Graduate Clinician
Nathan Gibson – beginning January 2024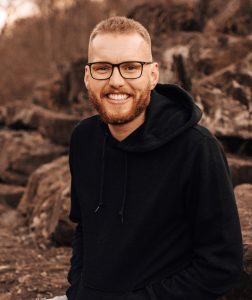 Nathan Gibson is a graduate clinician who is pursuing his master's degree in Clinical Mental Health Counseling at East Tennessee State University. He graduated from Milligan University in 2017 and worked for several years in the corporate world before making the decision to pursue counseling.  Through his own lived experiences, he has developed a genuine passion for this field and loves walking with others as they seek healing in their own lives.
Through a client-centered approach, Nathan strives to foster an environment where clients feel seen and heard. He sees individuals 16 years and older from all walks of life. He primarily works with grief and loss, trauma, low self-esteem, behavioral addictions, attachment wounds, anxiety, depression, lack of direction/purpose, and spiritual/religious struggles. His therapeutic approach combines a variety of evidence-based approaches, but primarily pulls from narrative, person-centered, and internal family system theories.
Nathan is passionate about creating safe spaces where people can show up fully and uninhibitedly. In a world where there are so many voices, his desire is for clients to find their own. Nathan considers it a tremendous honor to be invited into someone's story and looks forward to working together with clients to create peace and wholeness in their own lives.